Back to News
April 06, 2023

Baptist MD Anderson Cancer Center opens at Baptist Clay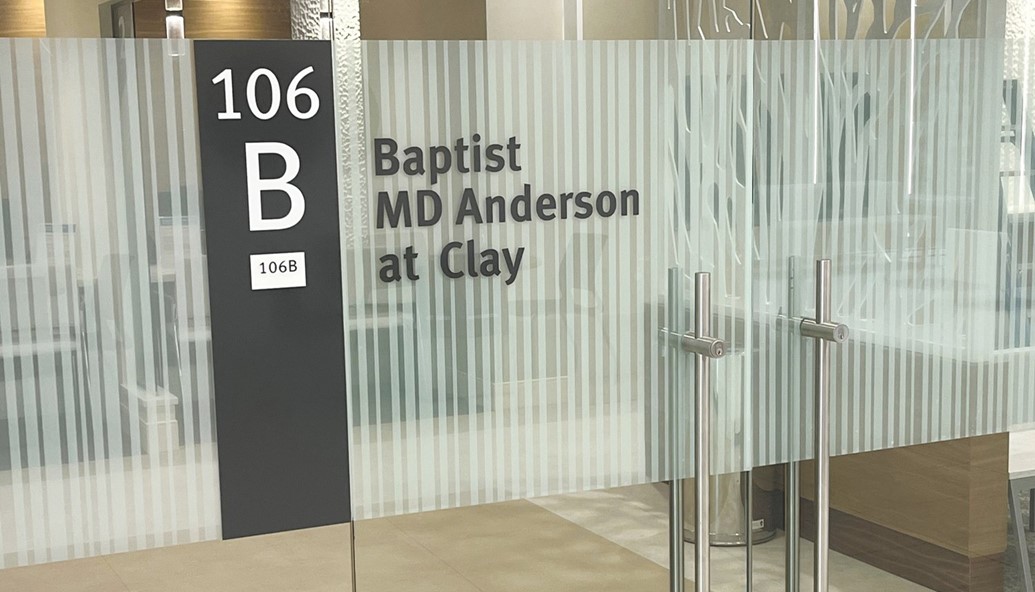 Full article here
Baptist MD Anderson Cancer Center is bringing world-renowned cancer care by opening a new satellite location on the Baptist Medical Center Clay campus.
The Baptist MD Anderson satellite will offer patients access to medical oncology, radiation oncology and infusion services. Breast surgery services soon will be available in late 2023.
Dr. Kerwin Cumberbatch, a medical oncologist, and Dr. Neenad Shah, a radiation oncologist, will join the Baptist MD Anderson multidisciplinary team dedicated to serving patients at the new facility. The pair are both fellowship-trained and have over 20 years of combined experience in treating cancer. Dr. Mona Janfaza, a fellowship-trained breast surgical oncologist, is set to join the team at Baptist Clay in 2023.
"Having the caliber of Baptist MD Anderson, an affiliation between Baptist Health and MD Anderson Cancer Center, right here in Clay County, is a tremendous advantage to our residents, who often have to travel for this level of expertise," said Darin Roark, hospital president of Baptist Clay. "Now, patients can access leading-edge technology, therapies and a multidisciplinary team in their neighborhood."
Baptist MD Anderson is a partnership between Baptist Health, the region's most preferred healthcare provider, and MD Anderson, one of the world's largest and most respected cancer centers in Houston, Texas. The addition of Baptist MD Anderson at Baptist Clay will be Baptist MD Anderson's third site in the Jacksonville area, with locations on the Baptist Jacksonville and Baptist South campuses.
"We will mirror the highly coordinated, multidisciplinary approach to care pioneered by MD Anderson. Baptist MD Anderson at Baptist Clay will provide adult patients access to the same advanced technologies, treatment protocols and care options as they would receive in Texas," said Dr. Joe B. Putnam Jr., FACS, medical director of Baptist MD Anderson. "Every patient will benefit from a group of cancer care experts with experience in the patient's specific type of cancer."
Additionally, a new state-of-the-art linear accelerator is coming to the Baptist Clay campus in spring 2023. This advanced technology uses radiation therapy to shrink cancer tumors without destroying the surrounding tissue. This year, there are estimated to be 162,000 new cases of cancer diagnosed in Florida, with Florida second only to California, with the highest rate of new cases a year in the United States.
According to the National Cancer Institute, the cancer incidence rate in Clay County is 36.1% higher than the statewide rate and 47.2% higher than the national average.
Baptist MD Anderson at Baptist Clay is at Baptist HealthPlace at Fleming Island off Village Square Parkway. The new health and wellness center features a variety of other specialties, including primary care, cardiology, urology, neurology, a walk-in lab and a women's imaging center.
"It is gratifying to see how our presence has gone from a single site on our Baptist Jacksonville campus to Baptist South and now Baptist Clay," said RN LeeAnn Mengel, vice president of Baptist MD Anderson. "Part of our growth involves enhancing our ability to treat more patients, and we plan to continue expanding our access points to better serve the entire region."
For more information about Baptist MD Anderson, visit BaptistMDAnderson.com.