 Close
First Coast Expressway
2022 Construction Update
Enjoy aerial footage of the First Coast Expressway (SR-23) construction progress as of May 2022 in Clay County, Florida. The First Coast Expressway will connect I-10 in the north to I-95 in the south by creating an outer beltway and running through the heart of Clay County, Florida. The project is providing tremendous development opportunity throughout the community.
Driving Rapid Growth and Development
The FCE is spurring construction all along the corridor.
The First Coast Expressway is driving economic development in Northeast Florida.  The bulk of the project runs through the heart of Clay County to connect I-10 in Duval County to I-95 in St. Johns County.  Florida Department of Transportation is investing $1.9B to create this limited access toll-road determined to rapidly increase the development of the area.  The 46 mile four-lane divided toll road will include 7 new interchanges in Clay County (13 project total) with traffic flowing through electronic toll gantries without stops.
FDOT Project Website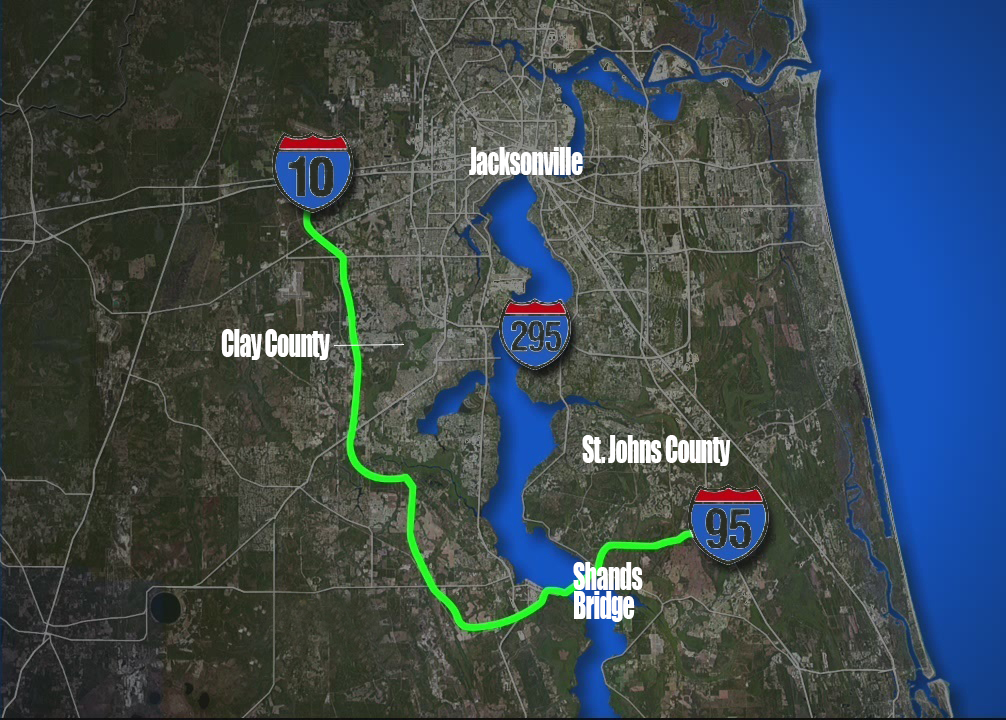 Construction Timeline
The FCE is now fully funded for construction.
Construction of the first segment, I-10 to Blanding Blvd. (SR-21) is complete.  The remaining project phases are fully funded.  The second segment, Blanding Blvd. (SR-21) to Shands Bridge, began construction in early 2019 and will conclude by 2023.  The third and final segment will begin construction in 2023.  The third segment includes a new bridge over the St. Johns River just south of where the Shands Bridge stands currently.  The vertical height clearance of the new bridge will be 65 feet.  The additional 20 feet of clearance will match the Buckman Bridge's clearance to the north removing all barriers for marine traffic.  
SR 23 FCE Timeline Map