Back to News
December 19, 2022

Baptist Medical Center Clay opens December 19 in Fleming Island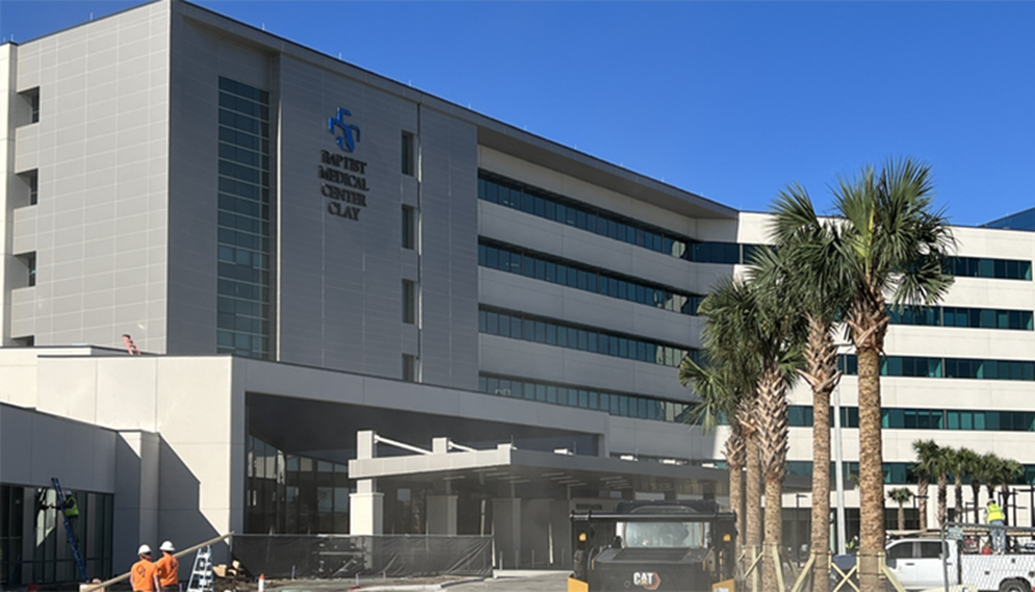 Full story here
The $234 million Baptist Medical Center Clay in Fleming Island began admitting its first patients Dec. 19.
Construction on the six-story, 300,000-square-foot hospital began in November 2020 and involved more than a million work hours, Baptist said. The first through fourth floors are occupied, and the fifth and sixth are ready for build-out when needed.
The Haskell Co. is the contractor and HuntonBrady Architects is the designer.
Baptist Health began offering emergency and outpatient care in Clay County in 2013. There are now six Baptist Health Medical Centers in Clay, Duval and Nassau counties.
The facility at 1771 Baptist Clay Drive is part of a medical campus that includes Baptist HealthPlace at Fleming Island, a health and wellness center that focuses on nutrition, biometric screenings and health coaching.
A Baptist MD Anderson Cancer Center will open on the 45-acre campus in spring 2023. It will be the fourth in the Jacksonville area.
Baptist Medical Center Clay has 102 private rooms, including 20 maternity suites and 10 neonatal intensive care units.
The maternity and neonatal rooms are designed to look like resort suites. Medical devices are stored in compartments out of the view of expectant parents. Specially equipped beds allow for quick and sanitary cleaning after the birth. Lighting is designed to be calming but can be intensified when the birthing procedure begins.
Space is available for the father to stay with sofas that convert to beds and the bathrooms are large.
"During COVID we had to chase the family away. Now, we are inviting them back in," said hospital President Darin Roark.
"All of this adds square footage and expense but it makes for a better place for healing," he said.
Nursing supplies and medicines are kept in separate corridors, allowing patients to rest. There are break rooms with massage chairs for nurses.
The environment inside the hospital is controlled by more than 20 room-size air handlers that clean the air with ultraviolet light. The intensive care unit can become negative-pressure rooms that immediately maximize infection control. The wound care unit has two hyperbaric chambers.
"Some of the cleanest air you can breathe is in this hospital," Roark said.
The campus has an off-the-grid energy plant that can provide enough power for the equivalent of 150 homes.
The hospital's cafeteria is open to patients and the public. On opening day, Executive Chef Daniel Conroy planned to serve lobster salad rolls. Lobster won't be on the menu every day, but there will be a rotating menu of items not typically found in a hospital cafeteria setting, the hospital said.
Clay County's growing population made the need for the new hospital facility is apparent, Roark said.
"Travel times are increasing more and more with folks relocating to Northeast Florida. It is very important as the locally owned and locally governed health system that we expand to meet those community needs."