Back to News
September 14, 2020

Clay County Economic Development Corporation earns Accredited Economic Development Organization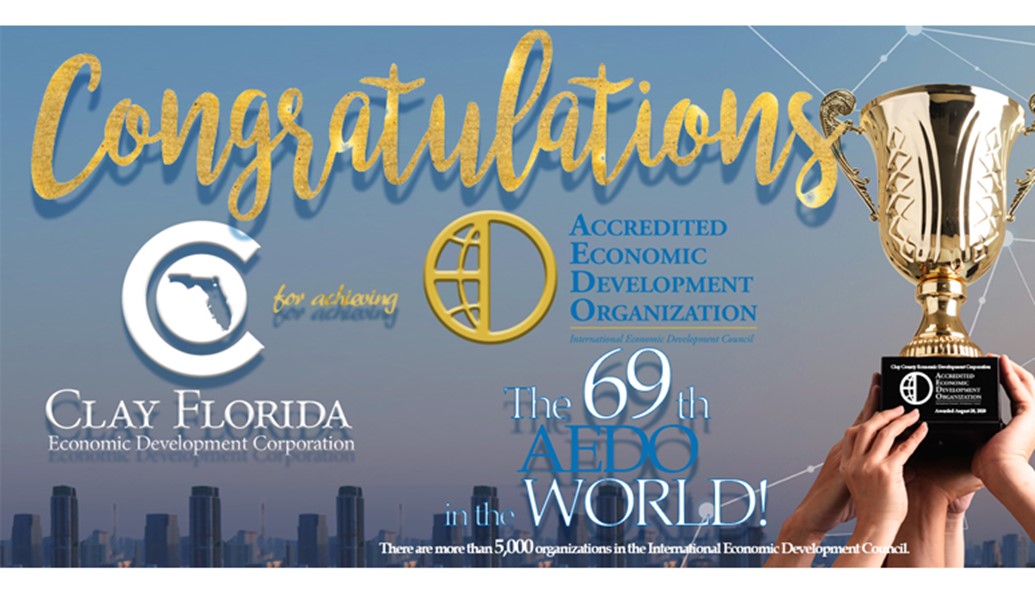 IEDC's Accredited Economic Development Organization (AEDO) program recognizes organizational excellence in the areas of internal and external operations, structures, and procedures. This series profiles newly accredited AEDOs, putting some of economic development's highest-performing organizations in the spotlight.
AEDO member: Clay Florida Economic Development Corporation
Accreditation date: August 2020
Distinctions: One of five AEDOs in Florida
Vision statement: "Working together to have a direct impact on high-wage job creation and business growth in Clay County, Florida."
Mission statement: "We seek to recruit new businesses to locate to Clay County and work to retain and help grow existing Clay County businesses, all in an effort to: provide quality, high-wage employment opportunities; diversify the local economy; grow the non-residential tax base; and improve the overall business climate and quality of life in Clay County for its citizens and families."
Organizational structure: 501(c)(3) nonprofit corporation
Leadership and staff: President Jamie-Joe Harris and Director of Business Development and Marketing Laura Pavlus
Geography served: Clay County, which is part of the Jacksonville, Florida MSA; major communities include Keystone Heights, Penny Farms, Orange Park, and Green Cove Springs
Population served: 212,825
Budget: $344,014
Strategic focus: Maximize pending First Coast Expressway infrastructure improvements; institute high-visibility entrepreneurial support; support manufacturing, marine, and aviation industries; implement placemaking that builds on Clay County's district amenities; increase community focus on economic development
Highlighted accomplishments:
Florida Power & Light – The purchase of 850 acres for a solar farm created an investment of $100 million and approximately 250 construction jobs.

Orange Park Medical Center – A medical center expansion that created $126 million in new capital investment and 100 new jobs

Precision Airparts Service & Support – An existing company that moved its California headquarters jobs to Clay County creating 14 new jobs; the project consisted of a $1.5 million building purchase and an additional $3.5 million investment in new equipment

The major interstate expansion through the middle of the county which will have a positive impact on economic development
Q&A with Clay Florida EDC
What does Clay Florida Economic Development Corporation do particularly well?
Clay EDC is great at maintaining strong and positive partner relationships which facilitate successful resolutions to economic development challenges. Infrastructure development, site readiness, and workforce development are areas where we have recently had tremendous partnership success.
What unique programs or initiatives does Clay Florida EDC carry out?
Clay EDC is working on a site readiness program to develop shovel-ready sites in strategic growth areas of the county. The construction of the First Coast Expressway, a $1.9 billion FDOT road project through the heart of Clay County, is driving tremendous residential growth. Clay County is projected to be the fastest-growing county by population percentage in Florida for the next 15 years. Clay EDC is also working with the Board of County Commissioners to strengthen our current incentives policy and increase our competitiveness within the region, state, and Southeast.
What is a challenge facing Clay County, and how does Clay Florida EDC work to address it?
As a bedroom community to Jacksonville, Clay County is deficient in infrastructure, particularly in our rural areas. These areas are growing quickly and experiencing the common challenge of infrastructure struggling to keep up with demand. Real estate absorption has been high and inventory is limited. Available commercial properties are also limited. This provides a great opportunity for developers to build with confidence.
Why did Clay Florida EDC decide to pursue AEDO accreditation?
Founded in 2014, Clay EDC is a young organization. Economic development is multifaceted and difficult for many to understand. Accreditation provides our community and investor partners with the confidence to know that the organization has a solid foundation and is headed in the right direction. We anticipate that this assurance will increase participation and further strengthen our efforts and opportunities.
What feedback from the AEDO Review Team did you find particularly helpful, and how do you plan to implement their recommendations?
The recommendations provide Clay EDC with a roadmap of actionable steps to follow for success. We will continue to strengthen our organizational structure and relationships with external stakeholders.