Back to News
January 06, 2023

Duval at 1 million: What population milestone means for city, region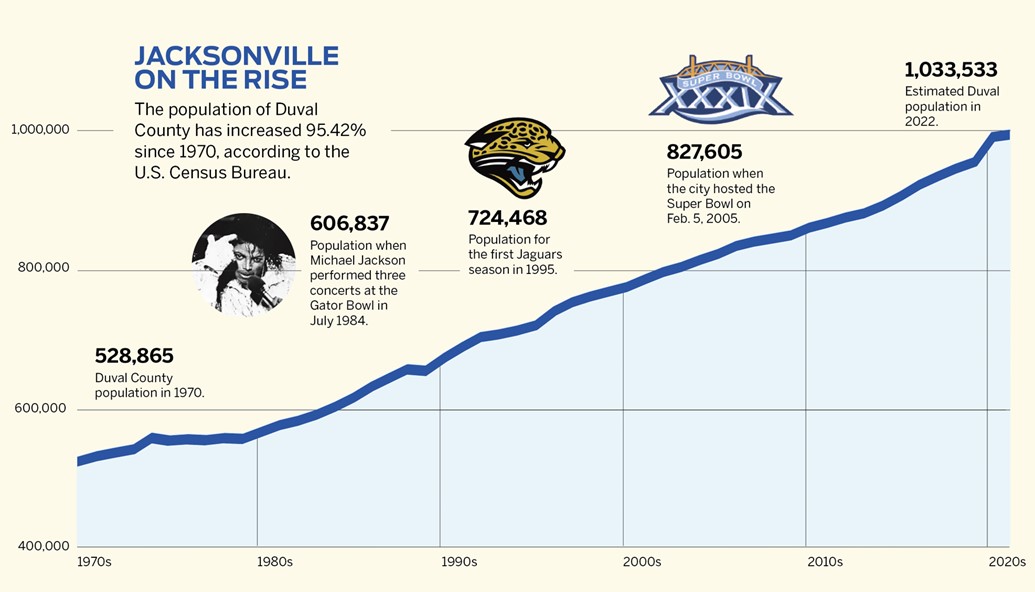 Full story here
Without a party, Duval County likely surpassed 1 million in population between 2020 and 2021.
Consider it another quiet moment during the coronavirus pandemic.
It was 25 years earlier, in January 1996, when the five-county metro area reached a million people and marked it with a community celebration featuring "I Dream of Jeannie" star Barbara Eden.
The county achievement hasn't gone unnoticed.
"Duval eclipsing 1 million is indeed a milestone," said Richard Doty, research demographer with the University of Florida Bureau of Economic and Business Research.
JAXUSA Partnership President Aundra Wallace said reaching 1 million people puts Jacksonville on par with other metro areas that compete for business development.
"You're an urban metropolis. It's one thing to say it. It's another thing to actually be it," Wallace said.
Duval County's Census population was 995,567 in 2020. 
Estimates indicate that Duval's population reached 1,016,809 in 2021 and 1,033,533 last year.
Duval continues to dominate the metro area, accounting for more than 61% of the five-county area population comprising Duval, Baker, Clay, Nassau and St. Johns counties.
The metro population, hitting 1 million a quarter-century ago, rose from 1.6 million in 2020 to an estimated 1.68 million in 2022.
JAXUSA Partnership is the JAX Chamber economic development division that covers seven counties,  consisting of the five counties in the Jacksonville metropolitan area plus Flagler and Putnam.
Wallace said U.S. Census data shows the entire JAXUSA region with 1.9 million people and it probably has grown since the official count in 2020.
"You calculate people who have moved here since COVID has taken place," he said.
"No doubt in my mind as a region, we've surpassed 2 million people."
Jacksonville is the only consolidated city-county government in the state, so it ranks at the top of Florida city populations.
However, as a county, it comes in No. 6 in the state behind Miami-Dade, led by Miami; Broward (Fort Lauderdale); Hillsborough (Tampa); Palm Beach (West Palm Beach and Boca Raton); and Orange (Orlando).
"This puts us on a short list with 50 other counties nationwide that exceed 1 million in population," said Katie Kirchner, a partner with Strategic Sites Clifford Commercial and the 2023 president of the Northeast Florida chapter of the NAIOP Commercial Real Estate Development Association. 
"Our substantial growth over the past few years boosts the national awareness of our county and increases our recognition as a desirable place to live, work and play."
Kirchner said that as one of the largest landmass counties in the continental U.S., marketed  by JAXUSA as more than 840 square miles, "we can support the growth and our quality of life remains very high."
Carrie Smith, senior vice president of the Franklin Street commercial real estate firm, said reaching 1 million "is another testament to how rapidly growing Duval and the surrounding counties have been for the last few years."
"We see it and feel it here locally, and now this proves that what we're seeing is real," she said.
Smith said Jacksonville historically has been viewed as a second-tier Florida city, "with the 'big guys' getting much of the attention for our state - Orlando, Miami and Tampa."
Doty at the University of Florida said Jacksonville's population growth from the number of people moving in will continue to be the key to the county's ongoing growth.
Duval's population also is relatively young, which is noted by employers and retailers.
As of 2020, the median age – meaning half of the population is older and half is younger – was 36.3 in the county.
That compared with 42.2 for the state and was the youngest in the five-county area. 
That also means a larger share of Duval's population works.
The percentage of people age 18 and older in the labor force was projected at 64.3% in 2021 compared with 59% statewide.
Retailing
Wallace said one tangible benefit of population growth is the ability to attract major retailers to Northeast Florida shopping centers.
"They look at what's the number of rooftops in close proximity to them," he said.
The continued addition of new luxury retailers at St. Johns Town Center demonstrates the benefits of Jacksonville's size, Wallace said.
"It is a reflection of the growth of Jacksonville," he said.
St. Johns Town Center, the retail center of Duval County, has attracted top-line retailers such as the area's only Louis Vuitton, Nordstrom, RH, Tiffany & Co., Gucci, Lilly Pulitzer, Tory Burch  and Apple stores.
Kirchner, as a commercial real estate broker, said retailers and restaurants expect there is an adequate customer base.
"I believe that the underlying thought is that there is more than enough to go around," she said.
"With new retailers and restaurants opening locations daily, there is an unspoken confidence that 'if you build it, they will come.'"
Smith said the area has been attracting big-name retailers for years, including Ikea.
"We as a city have already been able to attract the type of goods and services that the overall population seeks."
She said more population density in some submarkets, such as Downtown, can "make a huge impact in attracting retailers and restaurants."
Smith has noticed the wealth migration into the state and parts of Jacksonville "that brings with them a whole other level of tastes and expectations."
"While our population increasing is a piece of the puzzle when it comes to different types of new-to-market retailers and restaurants looking at our city, the expanding diversity of our population will be the bigger story to watch," Smith said.
Economy and jobs
University of North Florida economist Albert Loh said Duval County reaching 1 million is significant for the entire region.
"As the center of the Jacksonville MSA, Duval County has a diversified economy highlighting several booming sectors, including advanced manufacturing, health care, logistics, financial technology and others that brought jobs, economic activities, and strategic significance to the area," Loh said.
However, he said it is important to grow responsibly.
"For Duval County and the city of Jacksonville, it is essential to plan for a significant increase in public infrastructure to improve the quality of living for current and future residents," he said.
"We also should consider ways to reduce our environmental footprint as we grow."
Kirchner expects that large corporations "are looking twice" at Northeast Florida "as an important hub of the Southeast."
"We have worked hard to be a recognized player in several industries, specifically health care, transportation and distribution," she said.
"With our infrastructure, roadways, waterways and railways, Duval County can support the growth and further development."
Kirchner said Duval County "must remain diligent in working to attract high-quality workers and new talent to the area."
She said the area's natural amenities in outdoor spaces, parks, beaches, rivers and entertainment venues are a draw.
"Again, it comes down to a high quality of life for our residents. I believe that this has been a large contributing factor to our recent surge in population and was particularly evidenced during the pandemic."
Smith at Franklin Street doesn't consider the million mark as "moving the needle in terms of recruitment."
"What does impact our ability to attract businesses and recruit top talent is our way of life and Jacksonville has a ton to offer," she said.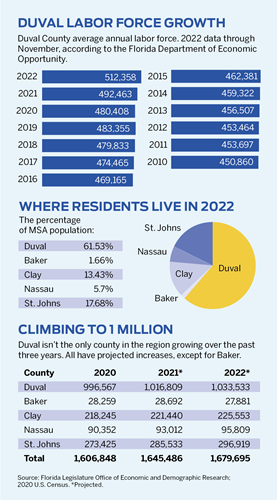 "Between outdoor activities and nightlife entertainment, along with top-notch services and restaurants, we offer a whole lot as a place to folks to build a career and life here," Smith said.
She said a burgeoning Downtown is central to bringing in top talent.
"Our city has made incredible strides these last few years with this. We have to continue investing in our core and other parts of the city that will plant long-term seeds for the future," she said.
Reaching a million doesn't necessarily mean employers assume an adequate workforce, she said.
"The investment we make into this city is what impacts this," Smith said.