Back to News
June 01, 2022

Edwards earns state finalist spot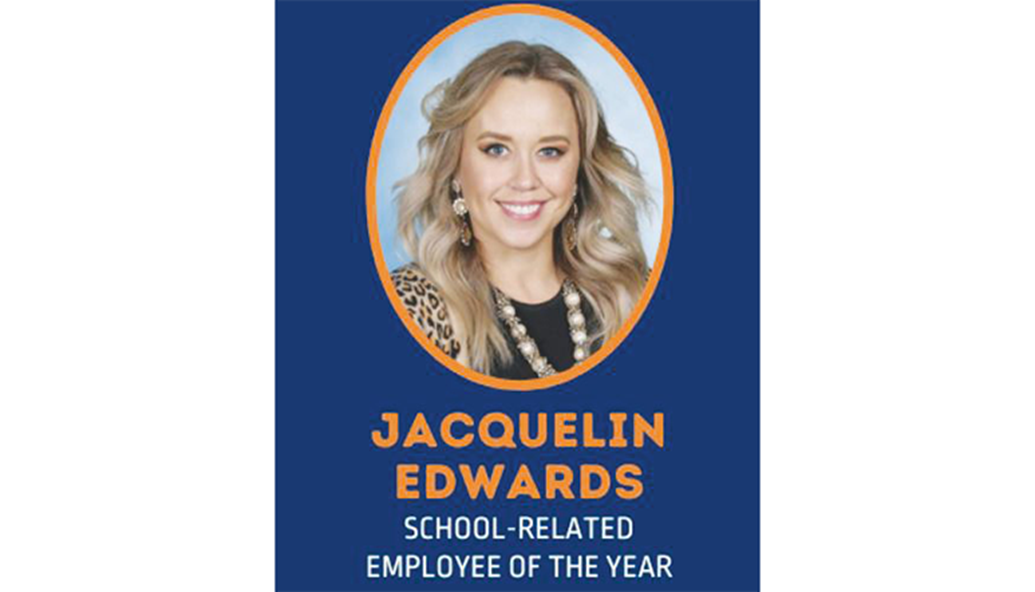 Full story here
MIDDLEBURG – Clay County has the distinction of having two top-five finalists for the 2022 state Teacher of the Year and School-Related Employee of the Year.
Clay County Teacher of the Year Melissa Matz, who hails from Lakeside Junior High, was notified about two weeks ago. Now it's Clay Hill Elementary's Title I Assistant Jacquelin Edwards' turn to be a top-five candidate in the state.
Both shared the stage of the Thrasher-Horne Center in February for their district-wide honors, and now the focus moves to the state level. Edwards said she was shocked and called making the top-five unbelievable.
"When I heard Melissa won, I thought well that's it, there's no way they'll take someone from the same county," Edwards said. "I think it is fantastic. It feels fantastic."
Edwards, who oversees small groups, said the point of going into work isn't to earn recognition. The best thing about winning the district award was that it assured her that every other finalist worked as hard, she said, which helps the district as whole.
"Every person in the running deserves it just as much," she said.
Edwards was cited for her extra efforts such as hosting a birthday party for students with summer birthdays. She previously worked as a substitute teacher and currently implements Positive Behavior Interventions and Support in groups.
"I want my children to feel like their teacher loves them," Edwards said. "My students know how much they mean to me. Their growth is my growth, their happiness is my happiness."
Like Matz, Edwards' work and accomplishments were recognized by Superintendent David Broskie.
"Her positive attitude and caring spirit for all children is evident from the moment you meet her," Broskie said. "The selection committee could not have chosen a better employee as one of their finalists to represent Florida."
Clay Hill Elementary Principal Adele Reed commended Edwards' energy and effort. Describing Edwards as talented and giving, Reed added that Edwards puts children first.
"Jacquelin's work speaks for itself," Reed said. "(Edwards' selection as a finalist) is a reflection that she has impacted so many people in the building both students and also in the community. She is a Clay Hill community member."
After Matz's nomination was announced, Reed joked she didn't think lightning could strike twice. She compared the district's familial community to the "Six Degrees of Kevin Bacon" parlor game, meaning several administrators, teachers and staff have connections from working together. That means they can pick up the phone and ask for support from the district or another school, Reed said.
"I feel with Miss Matz's and Jacquelin's selection, that this is what Clay County is about in terms of relationships," Reed said. "Jacquelin can get support from the district office …  These two ladies represent the close-knit nature of the district."