Back to News
August 11, 2023

Logistics growth leads to industrial boom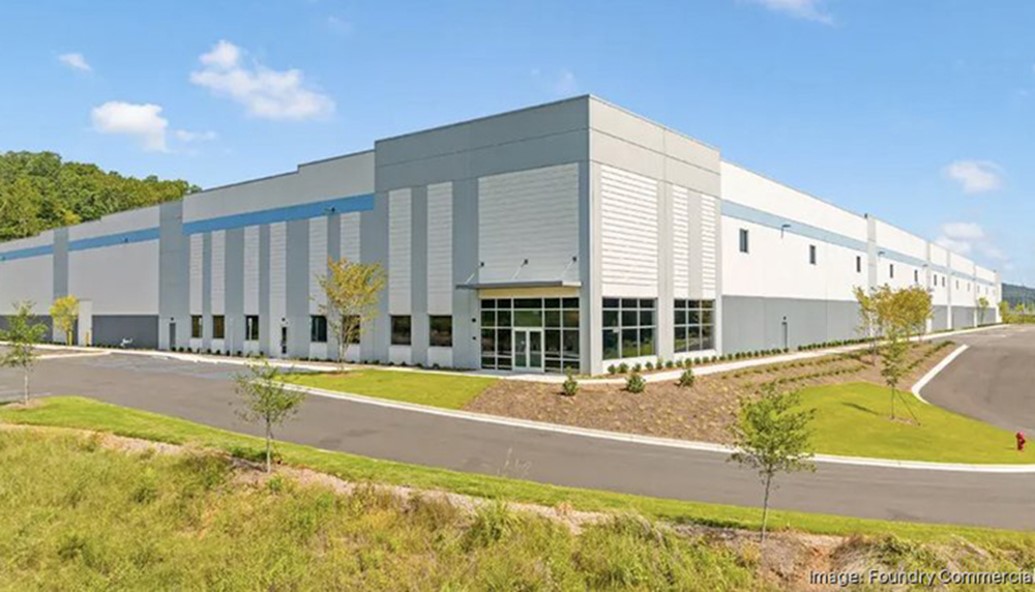 Full article here
As Merritt Properties leasing agent Pat Franklin walks through a building at Imeson Landing Business Park, his voice carries in the empty spec space.
The building is one of five the development company is building at the business park — three complete and two more expected to be delivered by January.
"We hold them for the long term, we're a cash flow company. We're not looking to flip buildings at all," Franklin said. "Our return is almost infinity."
For Merritt, those warehouses are the culmination of a process that began in 2018, when the developer's equity partner, Almanac Realty Investors, put $400 million into the firm with direction that it grow outside of Maryland, where land is scarce and comes at a premium.
The team looked at Texas, Utah, North Carolina. 
Then they came to Jacksonville, where Franklin was struck by the growth around Interstate 95 and State Road 9B.
"The timing was right. Now, prices have inflated land-wise because of residential," Franklin said. " … These buildings fly up here. We bought the land and got the Merritt people down here." 
Merritt isn't alone in that. In an uncertain economic environment locally and nationally, few sectors are as hot as the market for industrial space in Duval County.
Reports from local brokerages show low vacancy rates, meaning space is in demand and hard to find. However, rent is increasing also due to the demand as companies gradually take up the view that they can make Jacksonville work to get people their products.
Targeting efficiency
Jacksonville's industrial sector has been booming since at least 2018, with things kicking into higher gear during the pandemic as e-commerce surged to new heights.
With more customers having items shipped to their homes and a shortage of drivers, shippers had a "flight to quality," said Tyler Newman, an executive director at Cushman & Wakefield, which saw more than 5 million square feet of leasing in 2022.
"You had to become more efficient," Newman said. "It got more expensive for freight."
Demand in the area was additionally bolstered by the completion in 2022 of a project to deepen the shipping channel into the Jacksonville Port Authority's Blount Island terminal.
"We were looking at doing 2.5 million to 3 million square feet of leases and now we're doing 4.5 million square feet of leases," said Newmark Phoenix Realty Senior Vice President Rich Antczak, who brokered the sale of the 1.7 million-square-foot Park-295 industrial park south of Jacksonville International Airport. "I think corporations are seeing Jacksonville has a relatively low cost of entry." 
The $419 million project, which lowered the depth of the channel to 47 feet, allows bigger ships carrying more containers to enter the port: Before the deeper water, the typical ships from Asia that called at Jaxport in recent years carried the equivalent of 8,500 to 12,000 20-foot-long containers, and the Blount Island terminal is now receiving ships that can carry more than 14,000 containers.
"When the port grows, industry grows," said VanTrust Real Estate Executive Vice President Marc Munago. "It's an important asset we have and I would like for it to continue to grow." 
VanTrust Real Estate is the owners and developers of the 196-acre Imeson Park South, five buildings with approximately 3 million square feet of space, including the 1 million-square-foot building E.
Antczak highlights the housing boom and strength of the port, attributes of Jacksonville that are attractive outside investors. Regarding the port, users are realizing Jacksonville doesn't have the bottleneck of the regional competitive ports on the East Coast, he said.
The cost of getting product out of Jacksonville to elsewhere in the Southeast is less expensive than other areas Jacksonville's competing with "because of the amount of stuff that we have coming in, and the abilities to get it back out," said JaxUSA Senior Vice President Aaron Bowman.
What's all this space used for? Fulfillment centers for online orders drives a lot of the demand, with a new Amazon warehouse planned for Craig Airport. However, food storage, especially cold storage, is increasingly important.
"Obviously we've got a lot (with) Amazon here, Wayfair and others," Bowman said. "So, they need places to store the product. And then we're seeing a lot of consumables, the growth rate of Florida and Jacksonville and the Southeast, and the deepening of the port. Getting product in here and getting distributed as is, with the interstates and the rail and the port, makes it very reliable and affordable."
More work is being done related to the shipping channel, with a multimillion-dollar project underway to raise power lines that stretch over the St. Johns River and provide an impediment to tall ships. 
Franklin said dredging and lowering the powerlines will have an immeasurable impact on the speeds of transporting goods to and from the port to businesses.
"We thought it would happen, but the port-related business has been fantastic here," Franklin said. "Almost every user here is getting a product from the port or needs to be by the port."
Historic growth
The rising demand from shippers is leading to a surge in speculative building that Jacksonville hasn't seen since before the pandemic.
"These developers are coming in and building 200, 300, 500, 700,000 square feet of space, and then they're going to go find a tenant for it," Jaxport CCO Robert Peek said. "Occasionally some will come in like the cold storage guys – they came in and they built a dedicated facility. They were going to build a facility for a specific customer. But I'm surprised at how much of this space is built speculatively." 
Merritt for example, has recently acquired 16 acres on Zoo Parkway where its planning three buildings with 120,000 square feet total.
Bill Spinner owns Jax Green Industrial and Spinner Construction, developing property around the port, the Port Jax Trade Center off Alta Drive. At the Port Jax Trade Center, he's currently developing two more buildings, building 900 and the 100,000-square-foot 1100.
He said potential tenants may wait a few months to pre-lease a spec industrial building as interest rates are high. While construction on Building 1100 is tentative, he said the 61,230-square-foot Building 900 and 11,970-square-foot Building 1000 could be delivered by the second quarter of 2024.
"It takes longer to get a permit than to build a building," Spinner said. "It's an onerous slog through the quicksand to say the least."
While building speculatively has risks, it also has benefits, Franklin said.
"We had a 2,802-square-foot user who needed 480-volt power. If he went and did it in his existing space it would have cost him $75,000. For us it's nothing to do upfront," Franklin said. "Companies can't afford to do these things. We get all that infrastructure in place."
The demands of industrial clients are different than they were 20 years ago, Munago said.
"The e-commerce has created a lot of uniqueness to these buildings. There's a lot of technology and equipment in them," Munago said. "They are very different than they were.
"The last two years have been different from what any of us have ever experienced," Munago said. "We've tried to adapt and create growth opportunities and I think we've been able to do that in a very thought-through way."
High demand
With the boom in construction, Jacksonville's industrial vacancy rate — which sits at a low 2.6% — is likely to rise, as are rents. 
There is approximately 2.1 million square feet of space in the permitting phase, Antczak said, adding that around 5.5 million square feet of space is at some point in the development process.. 
In recent quarters, asking rates have risen significantly. There have been prominent deliveries of space in the millions of square feet, the report stated. Rents are going up because no matter the amount of more space added, the level of demand means it's immediately absorbed with a lot of demand still not met. 
Industrial's rental growth is still seeing an appreciation. In the second quarter of 2023, Cushman & Wakefield saw the overall asking average rate for industrial space at $7.62 per square foot, a 9.1% year-over-year rise and a 20% increase from the first quarter's end value. 
That increase isn't expected to stop, in part because of Jacksonville's low base. 
"We're probably seeing increases in the near future because we were lower than everybody else," Newman said.
Also hitting new heights: land prices.
"Land costs are escalating tremendously,"  Antczak said. "You're seeing land where developers prior were paying, $50,000, $60,000 or $70,000 per acre and now it's $150,000 to $160,000. When you put a pencil to it, it's tough to make that work based on the current financial markets and interest rates going up."
The increased supply and higher costs could end up easing the development pipeline will ease a bit, Antczak said.
Also at play: a slowdown in shipping, as retailers work through an overstock on inventory, a slowdown that has hit transportation companies across the industry.
"They're winding through that inventory so they've cut back on some orders because they don't need all that inventory," Jaxport's Peek said. The net effect of that is the amount of containerized throughput in U.S. ports as a whole has fallen off this year compared to what it was last year. But, no one's particularly alarmed by it because we just see it as part of the downside of a wave that crested a year ago, to put us back in some kind of normal."
That doesn't mean construction is going to stop, though.
"Everybody has their own opinion of when you build spec, but in my opinion there's got to be some product type that needs to be built," Newman said. "You're not going to build a ton of stuff when you get to 9% (vacancy rate), but there's still some segment of the market that needs to be built."