Back to News
January 06, 2022

St. Johns River State College Student Spotlight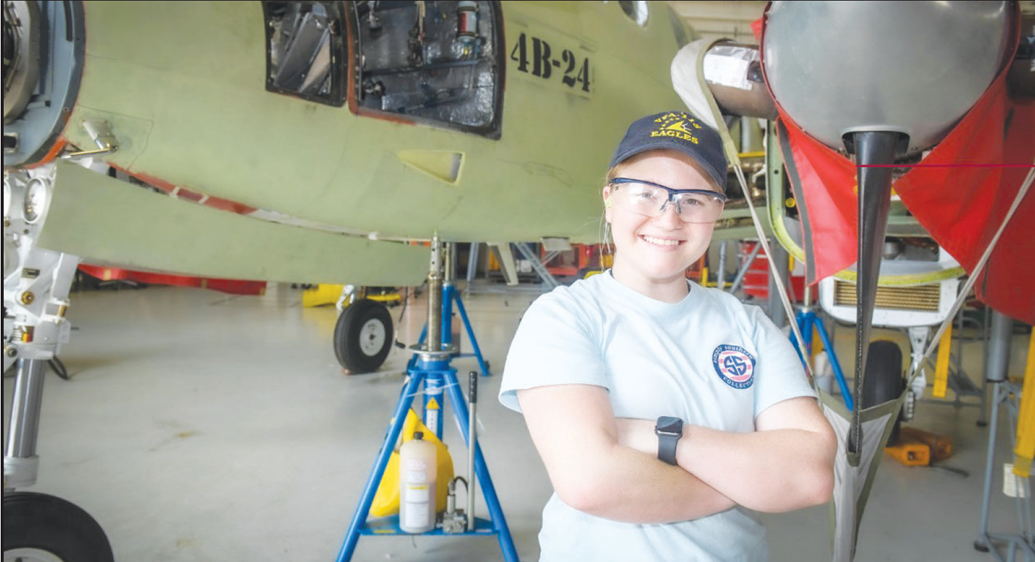 Full story here
ORANGE PARK – Shannon Beechum, 22, is living her dream of becoming an air-craft electrician, thanks to a partnership between St. Johns River State College's Orange Park campus and Fleet Readiness Center Southeast, located at the Naval Air Station in Jacksonville.
Created to prepare artisans for the future, the FRCS apprentice program involves four years of intensive training in a skilled trade in areas such as aircraft electricians, aircraft mechanics, electronics mechanics, machinists, painters, pneudraulic systems mechanics and sheet metal mechanics. Shannon chose the aircraft electrician track because of her interest in airplanes and how they work. She initially planned to pursue her career goals by enlisting in the military; however, she said that the FRCSE apprenticeship program is a similar path.
In addition to living her career dream, another plus for Shannon is the daily, relatable conversations she has about the apprenticeship program with her dad, Terry, who retired from FRCSE after working for the company for nearly 40 years. He introduced his daughter to the apprenticeship, and Shannon said it's hard to put into words what it means to her to be fol-lowing in her dad's footsteps. "I can't even describe the level of joy I'm feeling doing something that I know my dad's so proud of," she said. As part of the apprenticeship program, Shannon has completed 18 free credit hours of classroom training at SJR State and is now involved in full-time, hands-on training at FRCSE.
Shannon, which phase of the apprenticeship program are you currently in?
Beechum: I'm in the final phase of the apprenticeship program, where I rotate around different aircraft lines every few months to train specially on each bird to gain some knowledge and hands-on experience. I will be doing this for the next year and a half.
Why is this program so special to you? "I'm doing exactly what I wanted to do, and I got paid to go to school. It's unbelievable. It's a blessing."
What are you enjoying most about your training? My current role as an apprentice on the floor gives me the freedom to learn by my-self and with others to enhance my knowledge on things I didn't know before or think that I could do. Every day, I'm guided by an artisan who's already out on the aircraft line and has experience on the specific airplane, and we tackle situations one-on-one. It's rewarding to be able to gain the trust of the artisans who see great potential in me and give me the opportunity to perform tasks by myself, or to work side by side with them. I've gained so many friendships on the floor with people who have supported me along the way, and I thank everyone who has shaped me into who I am today as an apprentice. I wouldn't be where I am without their guidance.
What are your career plans for the future?
Eventually, in a few years, I'd like to apply for a management position, but for now, I'm set on trying to perfect my skills and learn as much as I can on the floor as an aircraft electrician.
The Fleet Readiness Center Southeast Apprenticeship Program is a comprehensive training program developed in accordance with U.S. Department of Labor standards, which consists of practical experience supplemented by related training and/or education in the theories and principles employed in the work of a skilled trade. Students who are selected for the pro-gram begin at a rate of $15.60 an hour and are guaranteed a federal job upon completion of the program. Apprentices earn an average of about $42,000 a year over the four years they are in the program, in addition to benefits and having all tuition and fees paid for by the program.