Back to News
June 10, 2022

Step by step, nail by nail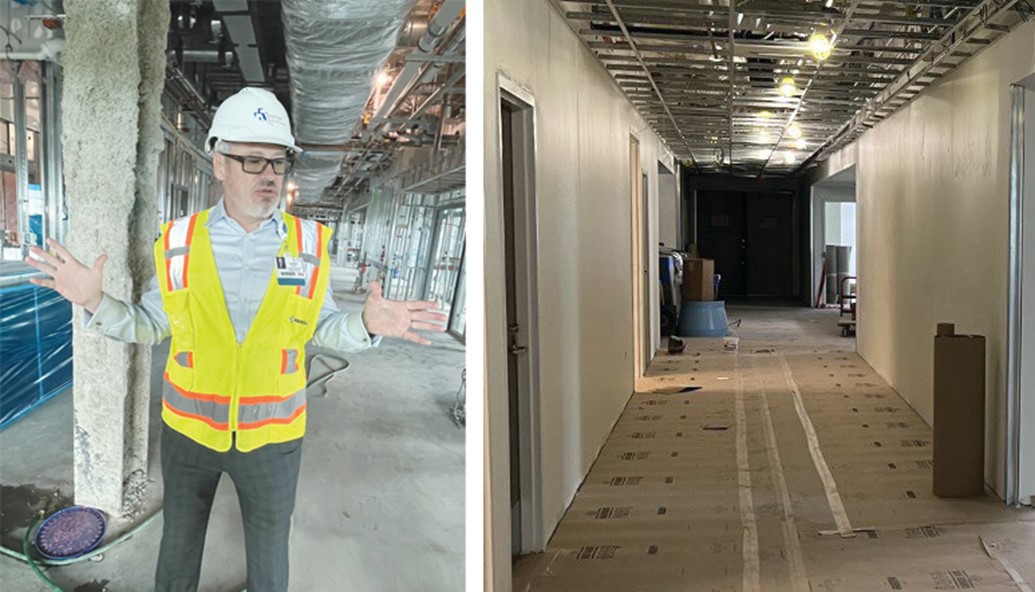 FLEMING ISLAND – Darin Roark wraps up each working day at the Baptist Clay Medical Campus by walking through the ongoing construction of a 102-bed hospital. He doesn't need blueprints to know what goes where, because every nail and piece of flooring has been part of lifelong dream.
He often steps over extension cords and around piles of debris. He enthusiastically greets every worker. Most important, instead of dreaming about a hospital, he can see it finally coming to fruition.
And each walk takes the Baptist Clay President a little closer to the expected opening this fall. "This project is really a passion of mine," Roark said. "I've been dreaming of being able to build a hospital here in Clay County ever since we opened the doors of the emergency room in 2013.
"I've had a big hand in the design of this hospital as well. I pay attention to details. I'm a stickler for the details, if you will, and I absolutely can tell where the progress has been made. And I can tell where something doesn't necessarily agree with the drawing. There's been a couple of times I've been walking through and alerting the team that we missed a cut out for personal protective equipment or a cabinet or that particular piece of plumbing is in the wrong place and needs to be moved or shifted."
The hospital will be connected to the Baptist and Wolfson Clay Emergency Room. Once opened, the new hospital will have 102 private rooms on spread throughout the three bottom floors. A fourth and fifth floor also is under construction that eventually will expand the number of beds to 174.
There are 340 construction workers, Roark said, to build the $185 million hospital. Counting the purchase and rebuilding of the old VyStar building next door that will be part of the medical campus, the entire investment is $235 million, Roark said. "We're getting closer every day," Roark said. "We're just thrilled to have the teams here on site working every day. In the end, the blood sweat and tears that we're putting into the building is just amazing. There's a whole different level of workmanship and you know the complexity of the rough end and the mechanical equipment that goes into the hospital. Seeing the men and women with their expertise come in every day and do great work is just really it's great to watch."
Learn more about the vibrant life sciences and healthcare industry sector in Clay County here.