Back to News
March 17, 2023

The Clay County town (Green Cove Springs) looks to keep its character as residents flock to the area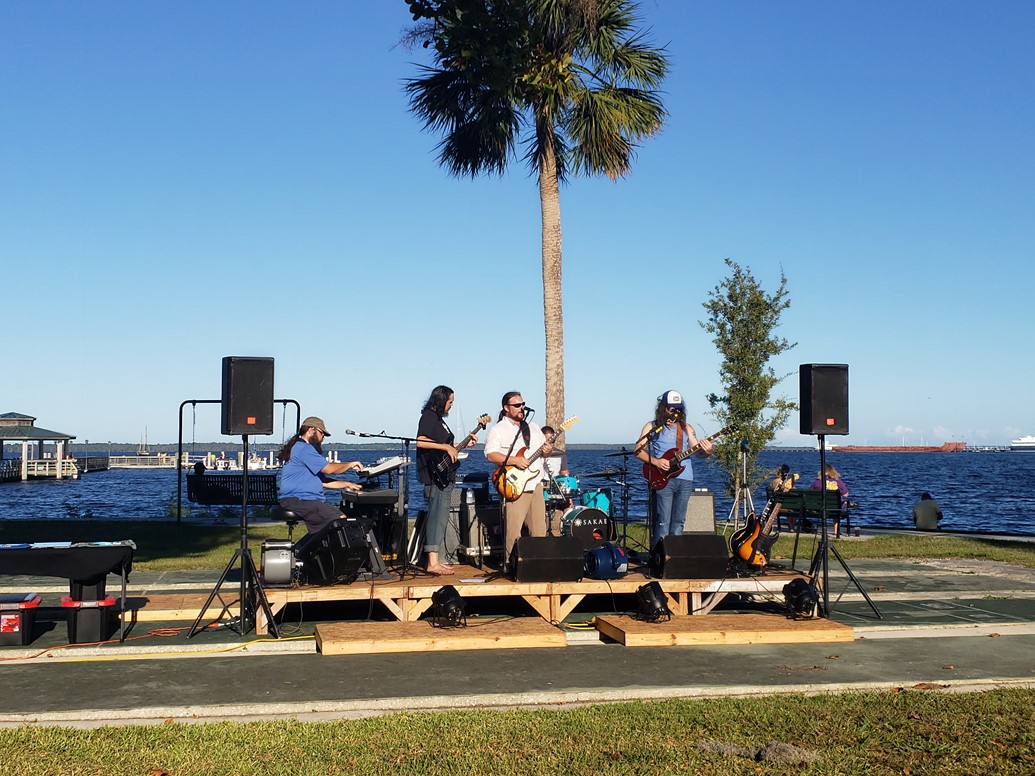 Full article here
Thousands of people fill Green Cove Springs Spring Park during its numerous festivals, with the breeze off the riverfront and the din of traffic on U.S. 17 filling the air. 
That influx of people to Spring Park, which was renovated with the help of state grants in 2018, is a recent change for the small city that serves as the Clay County seat — and it's not the only one.
Green Cove Springs can be viewed as a relic of Florida's more rural past with century-old homes, small businesses and festivals that draw thousands. 
The area has seen a population surge in recent years — since the end of 2018, more than 3,000 people and families a year have moved to the area, according to U.S. Post Office data 
Tourists have flocked to the old homes turned bed and breakfasts, while young homeowners are fixing up some of the historic housing stock. There is progress with adaptive reuses like the Clay Theatre on Walnut Street, which was turned into a wedding venue.
Green Cove is seen as more affordable and quieter compared to burgeoning Oakleaf and Orange Park areas and the condensed, high-priced Fleming Island Plantation.
All of that might be about to change, however.
Construction on the First Coast Expressway is continuing, thousands of homes are planned and the potential for commercial construction is on the horizon — activity that leaves some worried the city won't be able to preserve its identity.
I-10 to I-95
The $1.4 billion First Coast Expressway will connect I-10 on Jacksonville's Westside, making its way through Middleburg, Lake Asbury and Green Cove Springs before crossing the river to Interstate 95 in St. Johns County.
Two phases of the expressway that began in 2019 in Green Cove are expected to be completed by spring 2025, state Department of Transportation spokeswoman Sara Pleasants said: State Road 21 to State Road 16 is a 10.5-mile section connecting Middleburg to Green Cove for a project cost of $229 million. A 9.7-mile segment from State Road 16 to east of County Road 209 will cost $180 million.
Next is the $595 million construction of the new four-lane 1.8-mile Shands Bridge, scheduled to begin this year and to be completed by 2029. FDOT estimates annual average daily traffic on the First Coast Expressway from State Road 16 to the Shands Bridge starting at 62,400 cars in 2030 and rising 80,000 in 2050.
The same area is clocking 18,000 to 19,700 vehicles day now, according to FDOT data.
Pleasants said the expressway is a adjustment to growth to come.
"When this project started, Clay was the largest county in Florida without an expressway, and we were aware of the population growth," Pleasants said. "On one hand, it's supporting the growth that is already happening, complementing the infrastructure … The idea is to stimulate economic growth in Clay County and bring some of those (people commuting outside of the county) back. It will make it easier to get goods and customers where they need to go."
Here come the homes
The city isn't the only people expecting an influx of residents: The homebuilding industry is also preparing.
Homebuilder D.R. Horton's plans for 2,100 homes on the 560-acre area south of Green Cove, formerly Gustafson's Dairy Farm, and not far southwest of Green Cove is Governors Park, a Nocatee-type master planned community. Fort Lauderdale-based BTI Partners acquired 3,300 acres in December for $85 million from the Davis Family and Nocatee developer the PARC Group.
BTI Partners CEO Noah Breakstone said the master-planned community developer could take between two-to-three years to prepare the land for vertical development.
"Home builders are always looking for land that is ready for vertical construction and they rarely have the capacity to take these large tracts themselves," Breakstone said. "The purchase of Governors Park made sense as we continue the strategic growth of our land portfolio in Northeast Florida." 
On the housing side, the site is set for 4,000 single-family homes and 2,000 multi-family units.
"We expect to break ground on the first phase of residential infrastructure in early 2025," Breakstone said. "The timing of commercial development will be market driven." 
Commercial growth
Retail, of course, follows those new rooftops.
"Your restaurants, grocery stores, service industry sectors all follow that," said Clay County Economic Development President Crawford Powell. "The major healthcare groups are already looking at land for future development. They are well aware of the demographic trends coming toward us." 
Clay County has long been considered a bedroom community of Jacksonville. Powell said 70% of Clay residents work outside the county. The expressway can not only shift that perception, but complete a vision of a fully developed county.
"With all of this development potentially coming to the county it has a great opportunity to capture that workforce and eliminate that drive time with all these opportunities opening on a local scale," Powell said. 
Powell is realistic that the county must keep up with infrastructure in terms of roads, water and sewer. 
"A challenge is providing the capacity for those that want to develop and need to develop, that can put the area in a more solid foundation once we get through this growth," he said.
The city has expanded utilities electric at its Chapman Substation to almost double the city's capacity to up to a 43 megawatt load in addition to multi-million projects to enhance water and wastewater services, City Manager Steve Kennedy said. 
It is in the process of adopting a mobility fee and conducting studies regarding downtown redevelopment, parking, the city's U.S. 17 corridor, its waterfront assets and 
"Hopefully we can build on that and some of our downtown businesses and when the growth comes, it will benefit from that because there will be more bodies, but that's the hard part for us to manage," Kennedy said. "We don't know exactly what will take place." 
The other challenge: making sure that development is done smartly.
Steven Kelley is excited about the changes coming. The owner of Spring Park Coffee on U.S. 17 and Brass Tacks Coffee on Jacksonville's Southside has been a Green Cove Springs City Council member since 2016, giving him two vantage points from which to see the impacts of growth. 
From a small business perspective, he felt rents could increase and small businesses will have to compete with chain concepts — which local businesses can do, although it might be challenging.
"We want to see as many locally unique destination concepts as possible," Kelley said. "I think local businesses can possibly compete with the new regional changes and we can keep it somewhat local even with millions of dollars coming in, but certain things like that elevate things out of the price range."
On the government side, the city has reestablished its community redevelopment agency, giving it tools to designate tax increment funding in a certain area for improvements that go specifically toward that area.
Preserving Green Cove
The goal, city leaders say, is to maintain Green Cove's small-town feel — at least as much as possible. 
Even as Green Cove and the area around it develops, Kennedy thinks the city's character will remain. He points to the the city's Central Business District's regulations, which limit restrictions and site-specific requirements a business would have in another area of town.
"You maintain your small town feel through your land use and your zoning, by that, you designate certain areas that you're less inclined to have special exceptions in," Kennedy said. "The concentration of shops and those sort of enterprises are smaller boutique businesses that don't want to be in a big strip mall in front of a Walmart or a Home Depot. They're in a nice quaint, historic structure that has character." 
Not everyone is optimistic that's it is possible.
Felecia Hampshire was Green Cove Springs' first Black woman mayor in 2009. She was raised there, attending Clay High School. She said she saw when the city was booming in the 1960s and 1970s due to its proximity to Naval Station Jacksonville, but also its downturn in the 1980s when industry in the area took a downturn.
"We knew it was coming, we were having this discussion when I was mayor," Hampshire said. "People still don't know the full impact (of the growth)."
 Hampshire worries about residents getting priced out of the area and gentrification, where the younger generations won't be able to afford what their parents could. 
"Investors were on their p's and q's when they started looking into the area. The sad part is the people in the community can't afford the homes that are going to be built," 
Another impact on residents she mentioned is an increase in traffic and congestion. Hampshire said the growth is noticeable right now and she didn't know what it will look like in a decade.
"It hasn't even reached its peak because the beltway hasn't been completed," she said. "I just think this growth is going to slap us in the face."