Back to News
June 01, 2022

Veterans honored as military appreciation luncheon returns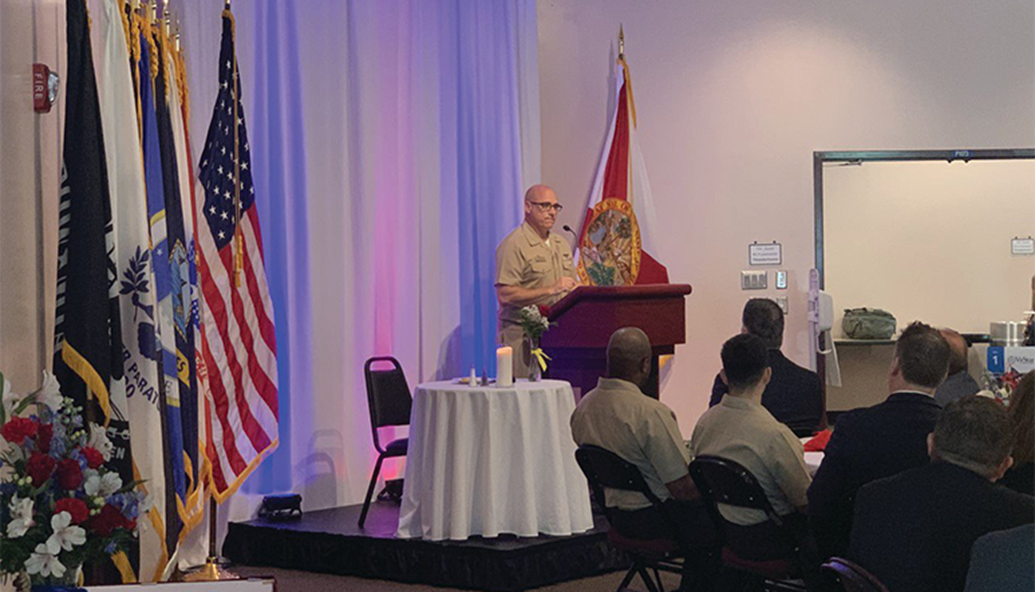 Full story here
ORANGE PARK – Naval Air Station Jacksonville Commander Jeffrey Hill relayed a message of togetherness and honoring sacrifices to a packed crowd at Clay County's Military Appreciation Luncheon last week.
After a two year wait, the event returned to Thrasher-Horne Center. Every branch was represented.
Hill began by mentioning the loss of former NAS Jacksonville Commander Bob Sanders, calling him a pillar in the community. He then recognized the dozens of veterans in attendance. Hill said it's no small task to swear to defend a country.
"To all the service members, thanks for coming out and getting dressed up," Hill said. "I do want to point out that this community, more so than what you'll find anywhere, supports everything that you do."
He joked about re-writing his speech several times and told servicemembers, sponsors and government officials present that they are an integral part of the country.
" … Everybody in this county is an integral part of this nation," he said. "Those of us in uniform can't do what we do without your support."
Memorial Day was more than just a day off, Hill added. It is specifically for those who died defending the country, he said, which some people may not know. He asked the crowd to take a short time to think on what the weekend is about.
"It's not about the people who serve, it's about the people who aren't here," Hill said.
When Hill was nearly finished with his speech with a heart-felt closer, the microphone was knocked loose and the crowd, and Hill, erupted in laughter.
"I was really coming to a crescendo there … It was like Showtime at the Apollo," Hill laughed, though he continued, " … Take that step further. Grab your kids, your grandkids. Grab your friends. Make sure they understand what these incredible giants did for the nation and what they did for them."
The event began with Military Appreciation Committee Chairman and Master of Ceremonies David King, whose father fought in World War II. King said his father was humble.
"He would always say, 'Son, each of those medals was just the result of being in the wrong place at the wrong time.' And he would add, 'I was merely doing my job,'" King said. "Isn't that an amazing attitude so endemic, so typical of all of those who serve our country in uniform?"
King spoke of the sacrifices on the "steel tombs" of Pearl Harbor's lost ships and the numerous missing and killed in action U.S. service members across the globe. King said service members and families supporting service members were the reason the crowd could attend the event.
"That warrior knows that back home they are loved, they are missed and their return is anxiously awaited," King said.
The event began with HCA Florida Orange Park Hospital Chaplain and U.S. Air Force veteran Reese Edwards delivering an invocation and asking for a moment of silence for the victims of the Uvalde, Texas school shooting. A table of World War II veterans were later recognized and Thrasher-Horne Executive Director and U.S. Coast Guard veteran Bob Olson honored POW-MIA service members.
"We are compelled to never forget, while we enjoy our daily pleasures, there are others that have endured and may still be enduring the agonies of pain, deprivation and internment," Olson said.
As the crowd whittled down and stepped out into the heat, sailors Christoria Riley and Anita Holliday reflected on the ceremony. Both called the event touching, and meaningful to see older veterans honored.
Riley said events like last week are a reason why she joined the armed forces.
"It is very reassuring to see how many companies invest into the military," Riley said. "Sometimes, when you're out there on deployment, we literally just have each other. We don't know if the outside world is thinking about us. So just to hear some of the speakers continue to thank us, that means a lot."