Back to News
June 01, 2022

HCA Florida Orange Park ranked No. 5 in critical care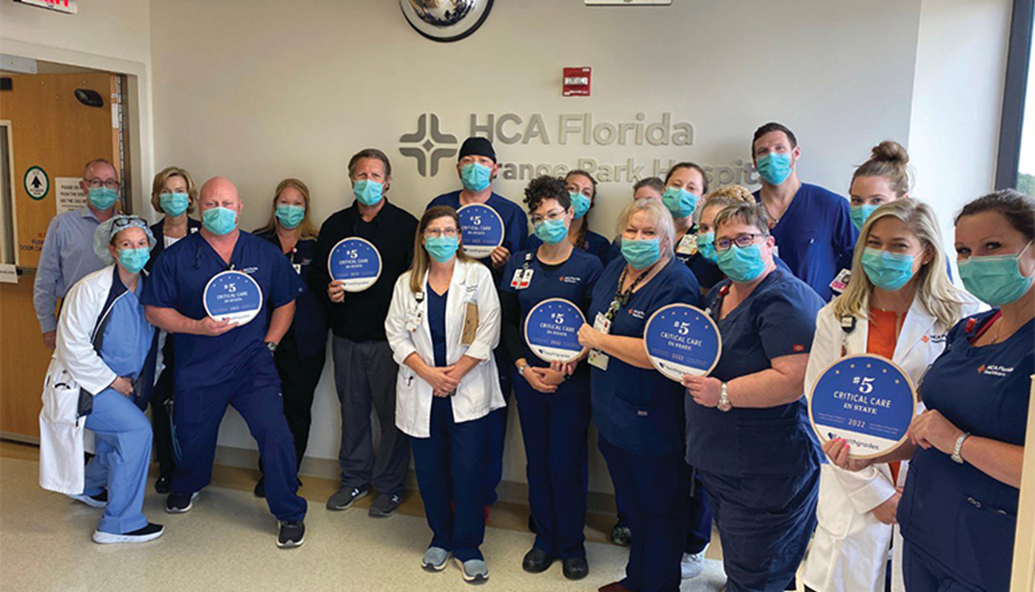 Full story here
ORANGE PARK – According to a new study released by Healthgrades, HCA Florida Orange Park Hospital was ranked No. 5 for Critical Care. Healthgrades is the leading resource that connects consumers, physicians, and health systems. For the State Ranking analysis, Healthgrades evaluated clinical performance for nearly 4,500 hospitals nationwide. Hospitals recognized as among the Top Ranked in their state by Healthgrades are providing patients with measurably superior clinical outcomes.
HCA Florida Orange Park Hospital's Intensive Care Unit treats patients for medical, surgical, cardiothoracic, and neurological conditions as well as traumatic injuries. In 2021, the hospital treated nearly 2,000 patients in their intensive care units and serves as the only level II trauma center and comprehensive stroke center in Clay County.
"Orange Park Hospital continues to add high-acuity services. To support that advancement, it's necessary to have a top-quality ICU team," said Dr. Michael Horowitz, Neurosurgeon at HCA Florida First Coast Neurosurgery. Last year, the hospital added a rare surgical treatment for cranial nerve disorders that provides an 85% chance of a cure. The surgery treats conditions that cause debilitating pain from everyday things such as the wind blowing on their face or swallowing. It is just one of the many new high-level treatments available at the hospital ranging from advanced cardiovascular procedures to ENT surgical treatments.
Patients all-around the state of Florida can access this quality information to inform and empower their decision about where to seek the best care. This is why Healthgrades is committed to delivering the most scientifically accurate and comprehensive information about doctors and hospitals – with data insights not available anywhere else.
"Being recognized among the Top 5 in Florida for Critical Care is a great achievement that speaks to the hospital's ongoing commitment to high-quality care. Hospitals receiving a top state ranking have much to be proud of as their deep medical expertise has built a track record of delivering positive outcomes for their patients," said Brad Bowman, M.D., Chief Medical Officer and Head of Data Science, Healthgrades.
HCA Florida Orange Park Hospital recently began construction on a $34 million multi-phase expansion set to be fully complete in the fall of 2023. The project adds 48 private patient rooms and the construction of a new 20-bed ICU, adding to its existing 28 ICU beds. Making the HCA Florida Healthcare system in Jacksonville, comprised of HCA Florida Memorial Hospital and HCA Florida Orange Park Hospital, the third-largest in the Jacksonville area. The two hospitals recently rebranded, joining their network of 49 hospitals in the state under one name - HCA Florida Healthcare.